Product Description
1111111111111111111111111111111111111111111111111111111111111111111111111111111111111111111111111111111111111111111111111111
| | | | | | | |
| --- | --- | --- | --- | --- | --- | --- |
| Item No. | φD | L | L1 | W | M | Tighten the strength(N.m) |
| SG7-11-30- | 30 | 50 | 18.5 | 13 | M3(4) | 1.2 |
| SG7-11-40- | 40 | 66 | 25 | 16 | M4(6) | 2.7 |
| SG7-11-55- | 55 | 78 | 30 | 18 | M5(4) | 6 |
| SG7-11-65- | 65 | 90 | 35 | 20 | M5(6) | 6 |
| SG7-11-80- | 80 | 114 | 45 | 24 | M6(8) | 10 |
| SG7-11-95- | 95 | 126 | 50 | 26 | M8(4) | 35 |
| SG7-11-105- | 105 | 140 | 56 | 28 | M8(4) | 35 |
111111111111111111111111111111111111111111111111111111111111111111111111111111111111111111111111111111111111111111111111111111111111111111111111111111111111111111111111111111111111111111111111111111111111111111111111
| | | | | | | | | |
| --- | --- | --- | --- | --- | --- | --- | --- | --- |
| Item No. | Rated torque | Maximum Torque | Max Speed | Inertia Moment | N.m rad | Tilting Tolerance | End-play | Weight:(g) |
| SG7-11-30- | 7.4N.m | 14.8N.m | 20000prm | 8.7×10-4kg.m² | 510N.m/rad | 1.0c | +0.6mm | 50 |
| SG7-11-40- | 9.5N.m | 19N.m | 15000prm | 1.12×10-3kg.m² | 550N.m/rad | 1.0c | +0.8mm | 120 |
| SG7-11-55- | 34N.m | 68N.m | 13000prm | 4.5×10-3kg.m² | 1510N.m/rad | 1.0c | +0.8mm | 280 |
| SG7-11-65- | 95N.m | 190N.m | 10500prm | 9.1×10-3kg.m² | 2800N.m/rad | 1.0c | +0.8mm | 450 |
| SG7-11-80- | 135N.m | 270N.m | 8600prm | 1.9×10-2kg.m² | 3600N.m/rad | 1.0c | +1.0mm | 960 |
| SG7-11-95- | 230N.m | 460N.m | 7500prm | 2.2×10-2kg.m² | 4700N.m/rad | 1.0c | +1.0mm | 2310 |
| SG7-11-105- | 380N.m | 760N.m | 6000prm | 3.3×10-2kg.m² | 5800N.m/rad | 1.0c | +1.0mm | 3090 |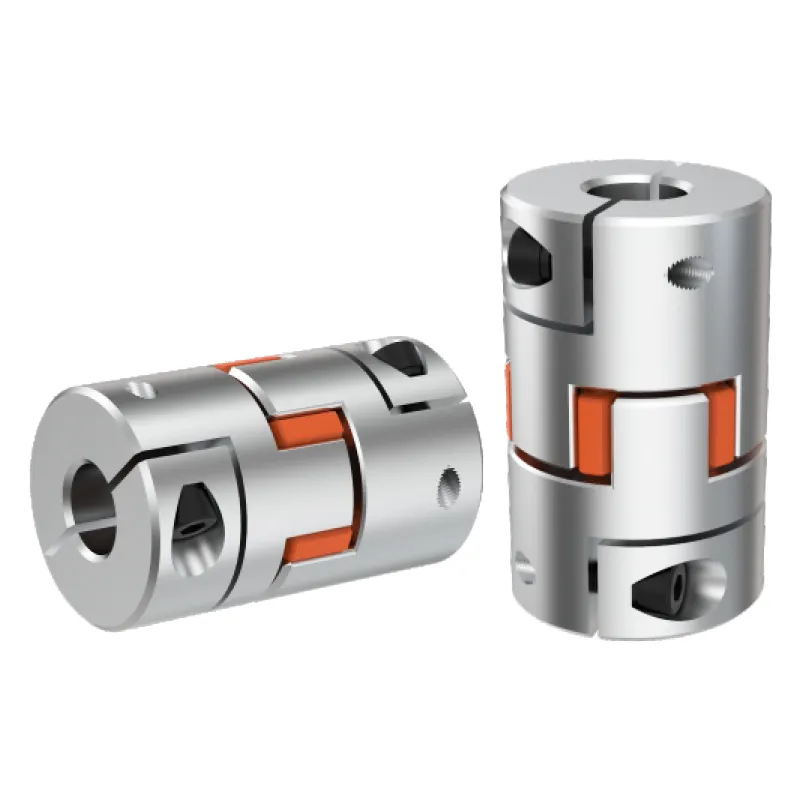 Minimizing Wear and Tear on Connected Components with Jaw Couplings
A jaw coupling plays a critical role in minimizing wear and tear on connected components by providing several key benefits:
Shock Absorption: Jaw couplings have a flexible elastomeric element between the two hubs, which acts as a cushion and absorbs shocks and vibrations. When the connected machinery experiences sudden jolts or impacts, the jaw coupling helps dampen these forces, protecting the equipment from damage and reducing wear on components.
Misalignment Compensation: In mechanical systems, misalignment between shafts is a common issue that can lead to premature wear on components. Jaw couplings can tolerate a certain degree of angular, parallel, and axial misalignment, allowing for better alignment between the driving and driven components. This feature helps distribute forces more evenly and reduces stress on connected components.
Resilience to Overloads: Jaw couplings can withstand temporary overloads, such as starting torque or sudden load spikes, without causing damage to the connected equipment. The elastomeric element of the jaw coupling acts as a torque limiter, protecting the machinery from excessive loads and preventing wear and tear.
Backlash Prevention: Backlash, which is the play or clearance between mating gears or components, can cause impact forces during reversing motions. Jaw couplings offer low backlash performance, reducing the potential for impact and minimizing wear on gears and other components.
Reduced Maintenance: By providing shock absorption, misalignment compensation, overload protection, and low backlash, jaw couplings help extend the service life of connected components. This, in turn, reduces the frequency of maintenance and replacement, leading to cost savings and increased productivity.
Smooth Power Transmission: Jaw couplings transmit power smoothly between the driving and driven shafts, resulting in less stress on components. The torsional flexibility of the elastomeric element helps prevent abrupt torque spikes, contributing to improved component longevity.
Overall, the jaw coupling's ability to absorb shocks, compensate for misalignment, handle overloads, and provide smooth power transmission makes it an effective solution for minimizing wear and tear on connected components. Regular inspection and maintenance of the jaw coupling are still essential to ensure its optimal performance and extend the life of the entire mechanical system.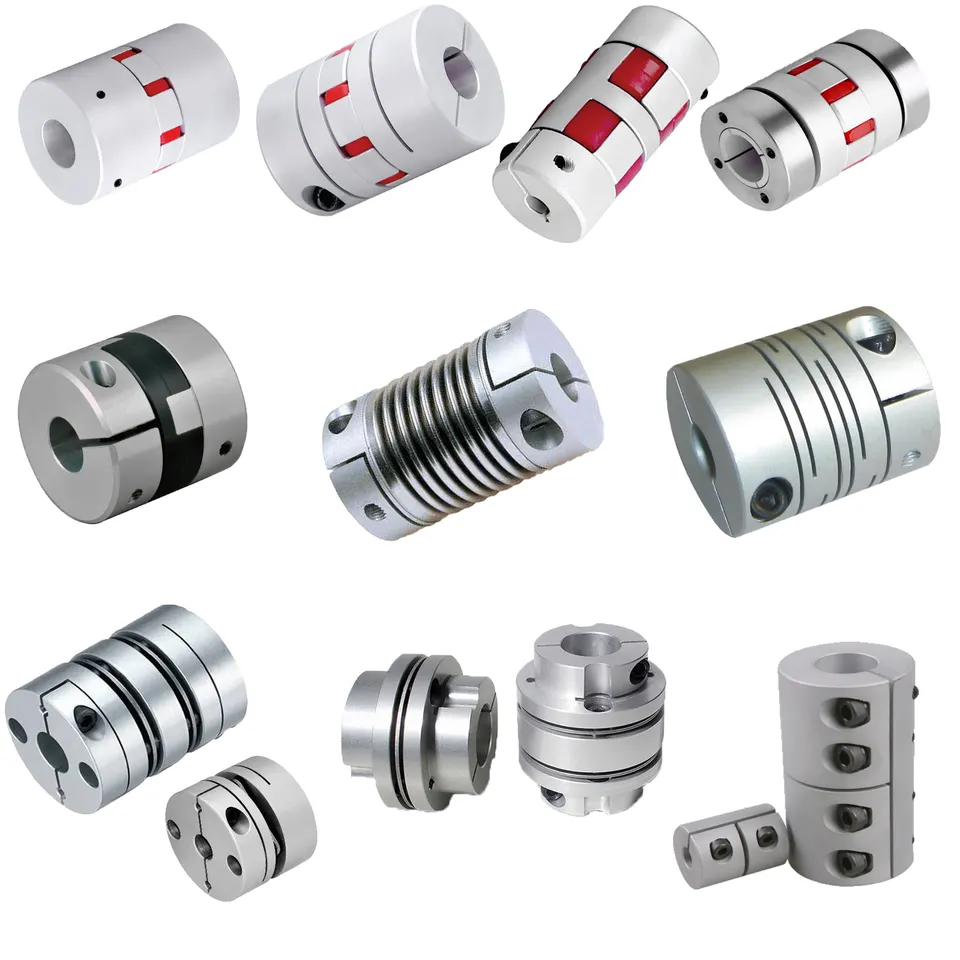 What are the common signs of wear and failure in jaw couplings?
Jaw couplings are reliable components, but like any mechanical part, they can experience wear and eventually fail if not properly maintained or replaced when necessary. Here are some common signs of wear and failure to look out for in jaw couplings:
Excessive Vibration: Increased vibration during operation may indicate wear in the elastomer spider or misalignment between the coupling hubs. Excessive vibration can lead to further damage and should be addressed promptly to prevent more significant issues.
Abnormal Noise: Unusual noises, such as rattling, clanking, or squeaking sounds, can indicate wear, misalignment, or damage in the jaw coupling. A well-functioning jaw coupling should operate smoothly and quietly.
Visible Cracks or Damage: Inspect the jaw coupling regularly for any visible cracks, tears, or damage to the elastomer spider or coupling hubs. Cracks in the elastomer can lead to reduced torque transmission and compromise the coupling's performance.
Loose or Displaced Spider: A loose or displaced elastomer spider may result from wear or improper installation. The spider should fit securely between the coupling hubs. Any sign of misalignment or gaps in the spider indicates potential wear or failure.
Increased Heat: Excessive heat generation in the jaw coupling could indicate high levels of friction or misalignment, leading to wear on the elastomer spider. Elevated temperatures can accelerate wear and shorten the coupling's lifespan.
Shaft Misalignment: If you notice misalignment between the connected shafts, it can be a sign that the jaw coupling is no longer compensating for misalignment properly. This can lead to increased stress on the shafts and coupling components.
Reduced Performance: A jaw coupling nearing the end of its service life may experience reduced torque transmission and compromised rotational speed control. As the elastomer spider wears, the coupling's ability to transmit torque efficiently diminishes.
Unexpected Downtime: Frequent unexpected shutdowns or downtime may indicate coupling failure. Sudden coupling failure can lead to costly equipment damage and unplanned production halts.
It is essential to conduct regular maintenance and inspections to detect these signs of wear and failure early. Preventive measures such as proper lubrication, alignment checks, and timely replacement of worn elastomer spiders can extend the life of the jaw coupling and prevent unexpected failures.
If any of these signs are observed, it is advisable to consult coupling manufacturers or maintenance professionals for a thorough assessment and appropriate corrective actions.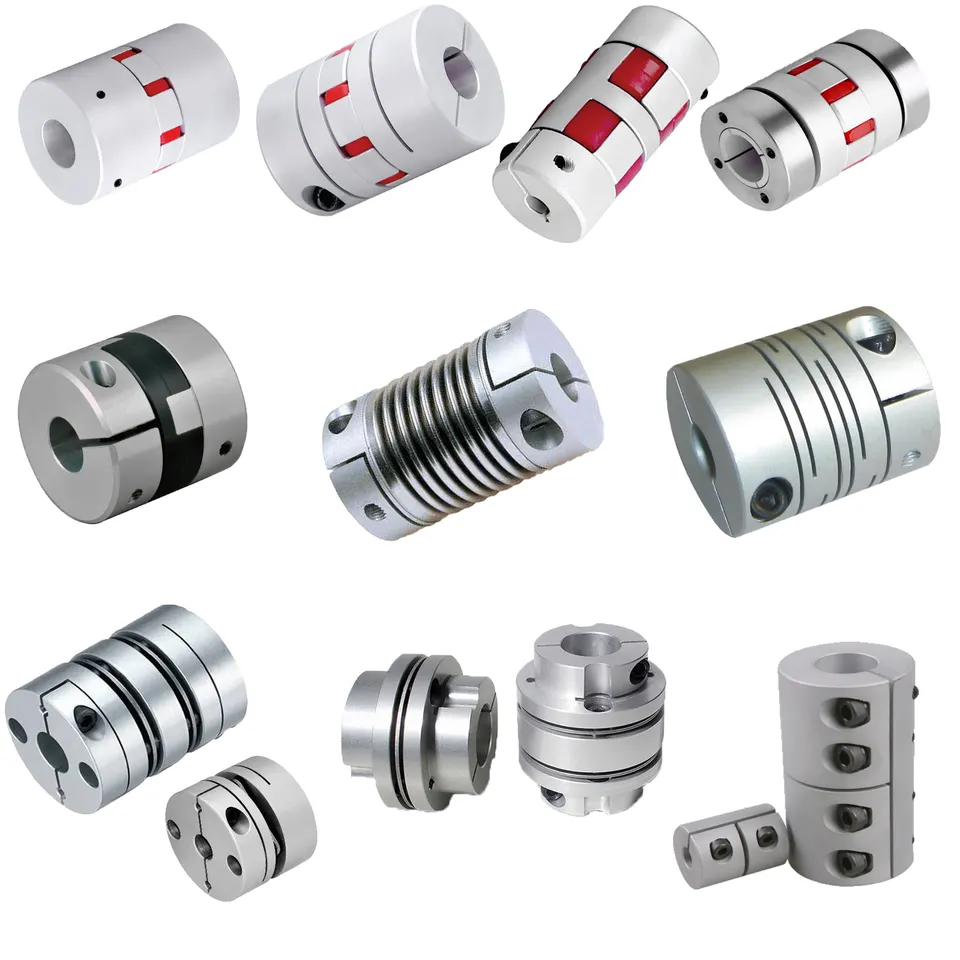 Comparing Jaw Couplings to Other Types of Couplings in Performance
Jaw couplings offer certain advantages and disadvantages compared to other types of couplings, and their performance characteristics vary based on the specific application requirements. Here's a comparison of jaw couplings with some commonly used coupling types:
Jaw Couplings vs. Gear Couplings: Jaw couplings are more economical and easier to install than gear couplings. They can handle misalignment to some extent, but gear couplings are better suited for high torque and high misalignment applications.
Jaw Couplings vs. Disc Couplings: Both jaw couplings and disc couplings provide some level of misalignment compensation, but disc couplings offer higher torque capacity and better torsional stiffness. Jaw couplings are generally more cost-effective for low to moderate torque applications.
Jaw Couplings vs. Oldham Couplings: Jaw couplings are torsionally stiffer than Oldham couplings, which means they provide more accurate torque transmission. However, Oldham couplings can accommodate higher misalignment and have no moving parts, making them suitable for some low-speed applications.
Jaw Couplings vs. Flexible Beam Couplings: Beam couplings are more flexible than jaw couplings and can handle higher misalignment. However, jaw couplings have a higher torque capacity and can dampen vibration better in certain conditions.
Ultimately, the choice of coupling depends on the specific needs of the application, including factors like torque requirements, misalignment, speed, and cost considerations. It's essential to carefully evaluate the performance characteristics of different coupling types and select the one that best suits the demands of the mechanical system to ensure reliable and efficient power transmission.



editor by CX 2023-08-21