Product Description
1111111111111111111111111111111111111111111111111111111111111111111111111111111111111111111111111111111111111111111111111111
| | | | | | | |
| --- | --- | --- | --- | --- | --- | --- |
| Item No. | φD | L | L1 | W | M | Tighten the strength(N.m) |
| SG7-11-30- | 30 | 50 | 18.5 | 13 | M3(4) | 1.2 |
| SG7-11-40- | 40 | 66 | 25 | 16 | M4(6) | 2.7 |
| SG7-11-55- | 55 | 78 | 30 | 18 | M5(4) | 6 |
| SG7-11-65- | 65 | 90 | 35 | 20 | M5(6) | 6 |
| SG7-11-80- | 80 | 114 | 45 | 24 | M6(8) | 10 |
| SG7-11-95- | 95 | 126 | 50 | 26 | M8(4) | 35 |
| SG7-11-105- | 105 | 140 | 56 | 28 | M8(4) | 35 |
111111111111111111111111111111111111111111111111111111111111111111111111111111111111111111111111111111111111111111111111111111111111111111111111111111111111111111111111111111111111111111111111111111111111111111111111
| | | | | | | | | |
| --- | --- | --- | --- | --- | --- | --- | --- | --- |
| Item No. | Rated torque | Maximum Torque | Max Speed | Inertia Moment | N.m rad | Tilting Tolerance | End-play | Weight:(g) |
| SG7-11-30- | 7.4N.m | 14.8N.m | 20000prm | 8.7×10-4kg.m² | 510N.m/rad | 1.0c | +0.6mm | 50 |
| SG7-11-40- | 9.5N.m | 19N.m | 15000prm | 1.12×10-3kg.m² | 550N.m/rad | 1.0c | +0.8mm | 120 |
| SG7-11-55- | 34N.m | 68N.m | 13000prm | 4.5×10-3kg.m² | 1510N.m/rad | 1.0c | +0.8mm | 280 |
| SG7-11-65- | 95N.m | 190N.m | 10500prm | 9.1×10-3kg.m² | 2800N.m/rad | 1.0c | +0.8mm | 450 |
| SG7-11-80- | 135N.m | 270N.m | 8600prm | 1.9×10-2kg.m² | 3600N.m/rad | 1.0c | +1.0mm | 960 |
| SG7-11-95- | 230N.m | 460N.m | 7500prm | 2.2×10-2kg.m² | 4700N.m/rad | 1.0c | +1.0mm | 2310 |
| SG7-11-105- | 380N.m | 760N.m | 6000prm | 3.3×10-2kg.m² | 5800N.m/rad | 1.0c | +1.0mm | 3090 |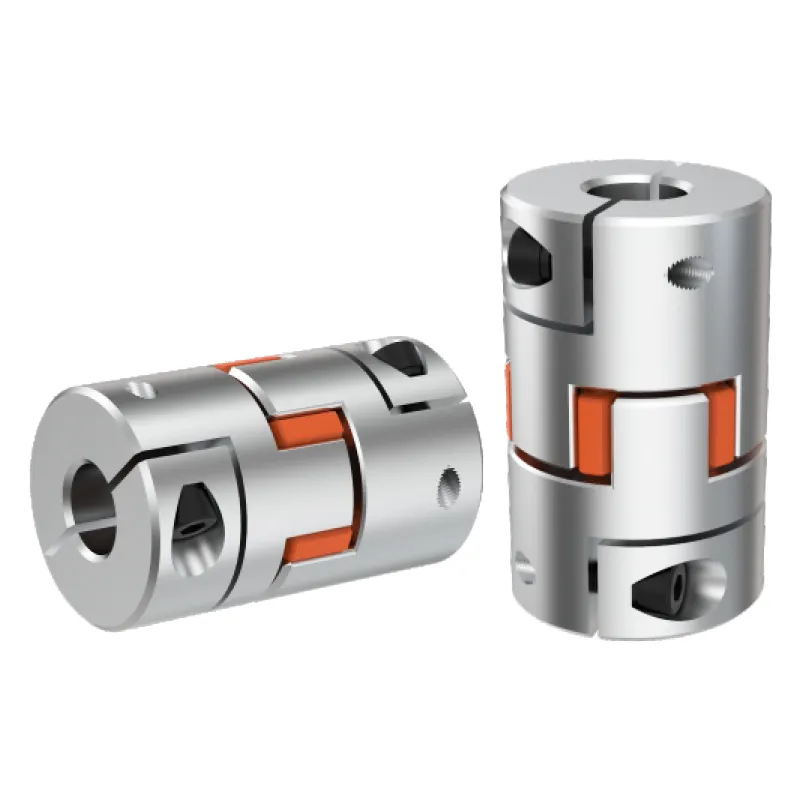 Impact of Jaw Coupling on the Overall Reliability of Connected Equipment
A jaw coupling plays a critical role in enhancing the overall reliability of connected equipment in mechanical power transmission systems. Its design and features contribute to various aspects that positively influence reliability:
Misalignment Compensation: One of the key benefits of jaw couplings is their ability to accommodate misalignment between shafts. By allowing for angular, parallel, and axial misalignment, the jaw coupling reduces stress on connected equipment. It helps prevent excessive forces and shaft bending that can lead to premature wear or failure.
Shock Absorption: The elastomeric spider element used in jaw couplings acts as a shock absorber. It dampens vibrations and shock loads, protecting connected equipment from sudden jolts or impacts that could cause damage or fatigue over time.
Torsional Damping: Jaw couplings provide torsional damping, reducing the risk of torsional vibrations that can negatively affect equipment performance. By minimizing vibrations, the coupling contributes to smoother operation and extended equipment life.
Fail-Safe Design: In the event of a spider failure, jaw couplings often offer a fail-safe design. The spider is a replaceable component, and its failure does not typically lead to catastrophic failure of the coupling or connected equipment. This characteristic enhances the overall system reliability and simplifies maintenance.
Low Maintenance: Jaw couplings are relatively low maintenance compared to other coupling types. The elastomeric spider does not require lubrication and has a longer service life compared to metallic couplings. This reduces the frequency of maintenance activities, minimizing downtime and increasing equipment reliability.
Backlash-Free Operation: Some jaw couplings are designed to provide backlash-free operation, ensuring accurate motion transmission without play or clearance. This feature is particularly important in precision systems, preventing positioning errors and contributing to consistent performance.
Corrosion Resistance: Jaw couplings are available in various materials, including stainless steel and corrosion-resistant alloys. Choosing the appropriate material for the specific environment ensures the coupling's longevity and reliability, even in harsh operating conditions.
Reduced Vibration Transfer: By isolating vibrations, jaw couplings prevent the transfer of harmful vibrations between connected equipment. This safeguard is crucial in delicate systems where excessive vibrations could lead to malfunction or damage.
Overall, a well-chosen and properly installed jaw coupling positively impacts the reliability of connected equipment. It helps prevent mechanical stress, dampens vibrations, and provides a reliable connection between shafts, contributing to the smooth and efficient operation of the entire mechanical system.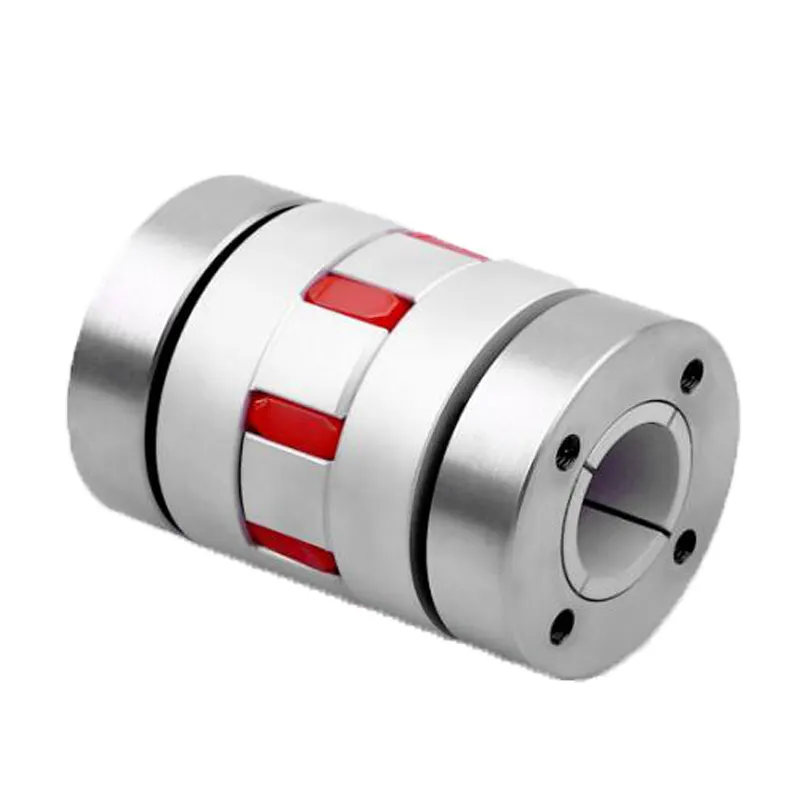 Can jaw couplings be used in marine and automotive applications?
Yes, jaw couplings can be used in both marine and automotive applications, and they have proven to be effective in various scenarios within these industries. Here's how jaw couplings are utilized in marine and automotive settings:
Marine Applications:
In the marine industry, jaw couplings are commonly used to connect the engine to various components, such as propellers, pumps, generators, and auxiliary equipment. They offer several advantages that make them suitable for marine applications:
Corrosion Resistance: Marine environments are exposed to saltwater and other corrosive elements. Jaw couplings made from materials such as stainless steel or other corrosion-resistant alloys can withstand these harsh conditions and ensure long-lasting performance.
Misalignment Compensation: Vessel movement and hull flexing can lead to misalignment between the engine and driven components. Jaw couplings can accommodate both angular and parallel misalignment, ensuring efficient power transmission even in dynamic marine conditions.
Vibration Damping: The elastomer spider in the jaw coupling absorbs vibrations generated by the engine and other equipment, contributing to smoother operation and reduced wear on the components.
Compact Design: Space is often limited on boats and ships. Jaw couplings have a compact and lightweight design, making them suitable for applications with space constraints.
Automotive Applications:
In the automotive industry, jaw couplings are used in various applications, including power steering systems, engine-driven accessories, and HVAC blowers. They offer several benefits for automotive applications:
Misalignment Compensation: Jaw couplings can handle small misalignments that can occur due to engine movements or assembly tolerances, ensuring reliable power transmission and reducing stress on the drivetrain.
Vibration Damping: The elastomer spider in the jaw coupling dampens engine vibrations, contributing to a smoother and quieter ride for passengers.
Compact and Lightweight: In modern vehicles, lightweight components are essential for fuel efficiency and overall performance. Jaw couplings' compact design and low inertia make them suitable for automotive applications.
Cost-Effectiveness: Jaw couplings are often more cost-effective compared to some other coupling types, making them a popular choice for automotive applications where cost considerations are essential.
In conclusion, jaw couplings are versatile and can be successfully used in marine and automotive applications. Their ability to handle misalignment, dampen vibrations, and provide efficient power transmission makes them reliable components in various dynamic and demanding environments.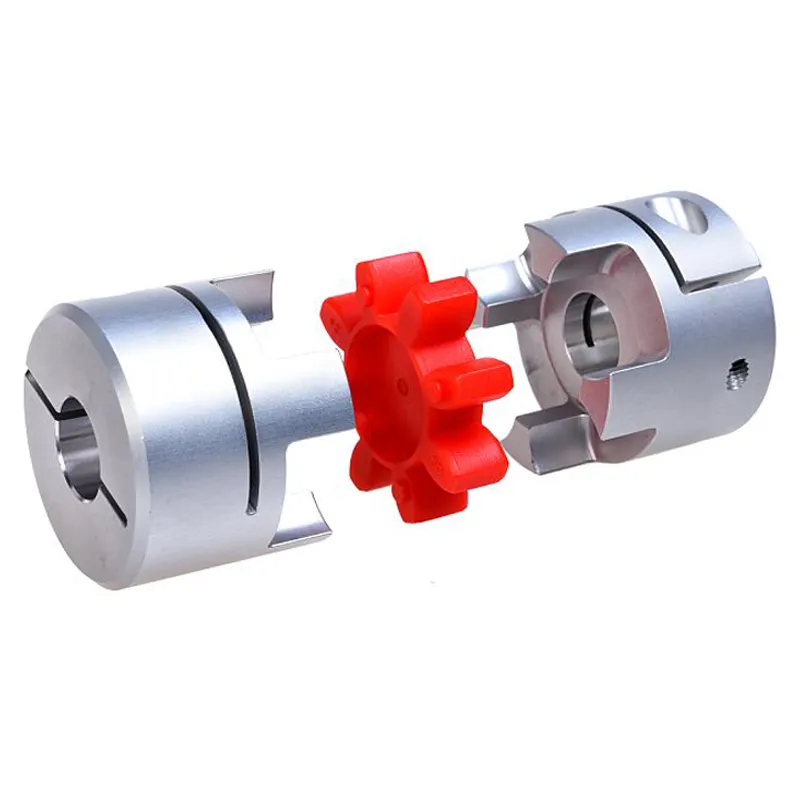 Limitations and Disadvantages of Using Jaw Couplings
While jaw couplings offer several advantages, they also have some limitations and disadvantages that should be considered when selecting them for specific applications:
Angular Misalignment: Jaw couplings are sensitive to angular misalignment, and excessive misalignment can lead to increased wear and reduced service life.
Radial Misalignment: Similar to angular misalignment, radial misalignment should be kept within acceptable limits to prevent premature wear.
Temperature Limitations: The operating temperature range of jaw couplings may be limited by the material used. For high-temperature applications, other coupling types may be more suitable.
Shock Load Absorption: While jaw couplings can handle moderate shock loads, they may not be ideal for applications with severe shock loads, which can lead to increased stress and failure.
Torsional Stiffness: Jaw couplings have a certain level of torsional stiffness, which means they may not provide the same level of vibration isolation as other coupling types.
Backlash: Jaw couplings can have some degree of backlash due to their elastomeric element, which may not be desirable in precision positioning applications.
Speed Limitations: High-speed applications may require careful consideration of the jaw coupling's design and material selection to avoid issues related to centrifugal forces.
Despite these limitations, jaw couplings remain a popular choice in many applications due to their ease of installation, simple design, and cost-effectiveness. Proper selection, installation, and maintenance can help mitigate some of these limitations and ensure optimal performance and reliability of the jaw coupling.



editor by CX 2023-08-16