Product Description
Product Description
Flexible couplings are used to transmit torque from 1 shaft to another when the 2 shafts are slightly misaligned. It can accommodate varying degrees of misalignment up to 3°. In addition to allowing for misalignment, it can also be used for vibration damping or noise reduction.
Encoder couplings, flexible coupling, couplings working with Encoder & all kinds of motors (servo motor, DC motor, AC motor, gear motors).
MODEL

OD(mm)

Length(mm)

Bore range(mm)

JM14

14

22

3-7

JM14C

14

22

3-6

JM16

16

22

3-7

JM16C

16

22

3-7

JM20

20

30

4-10

JM20C

20

30

4-10

JM25

25

34

4-12

JM25C

25

34

4-12

JM30

30

35

5-16

JM30C

30

35

5-16

JM40

40

66

8-24

JM40C

40

66

8-24

JM55

55

78

10-28

JM55C

55

78

10-28

JM65

65

90

12-38

JM65C

65

90

12-38

JM80

80

114

16-45

JM80C

80

114

16-45

JM95

95

126

20-55

JM95C

95

126

20-55

JM105

105

140

20-62

JM105C

105

140

20-62

JM120

120

160

20-74

JM120C

120

160

20-74

JM135

135

185

22-80

JM135C

135

185

22-80

"C" means clamp type jaw coupling   Without "C" means setscrew type jaw coupling
application
Packaging & Shipping
Company Profile
Related product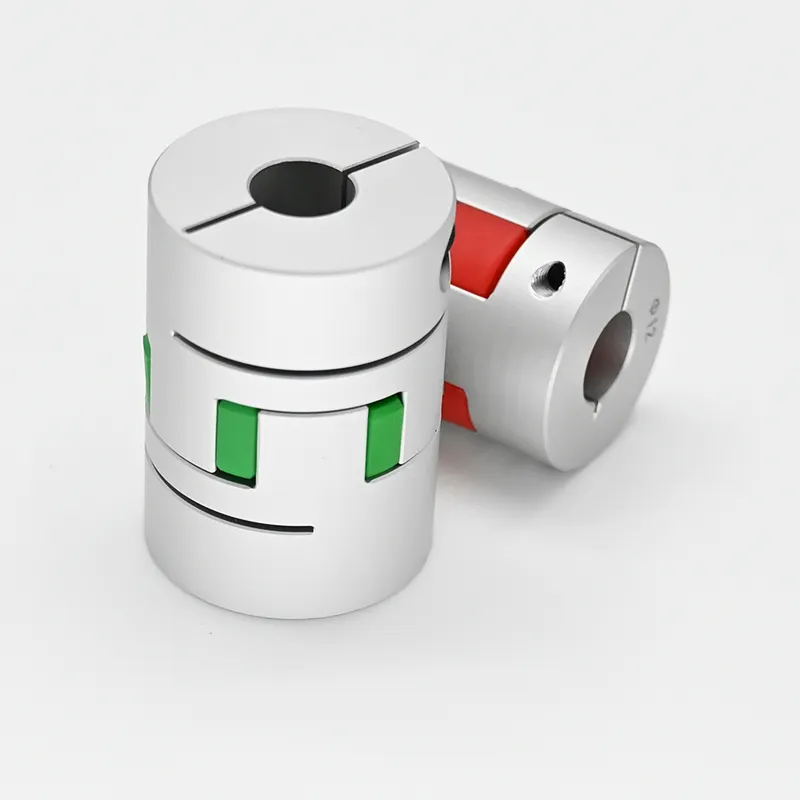 Factors to Consider When Choosing a Jaw Coupling for a Specific System
Choosing the right jaw coupling for a specific system is crucial to ensure efficient power transmission and reliable operation. Several factors should be considered when making the selection:
Torque and Power Requirements: Calculate the torque and power requirements of the system to determine the appropriate size of the jaw coupling. Ensure that the selected coupling can handle the maximum torque and power output without exceeding its rated capacity.
Shaft Size: Match the jaw coupling's bore size to the shaft diameters of the connected equipment. The coupling's bore should be slightly larger than the shaft diameter to allow for easy installation and proper clamping.
Misalignment Compensation: Evaluate the degree of misalignment that the system may experience during operation. Jaw couplings can handle angular, parallel, and axial misalignment to varying degrees, but it's essential to choose a coupling with the appropriate misalignment capabilities for the specific application.
Operating Speed: Consider the operating speed of the system. Some jaw couplings are designed for high-speed applications, while others are more suitable for lower speeds. Choosing a coupling that matches the system's operating speed helps prevent issues such as resonance and premature wear.
Environmental Conditions: Assess the environmental conditions in which the coupling will operate. Factors such as temperature, moisture, and exposure to chemicals can influence the choice of material for the jaw coupling.
Backlash: Determine if the application requires minimal or zero backlash. Some jaw couplings may have inherent backlash due to their design, while others are designed to provide backlash-free operation.
Installation and Maintenance: Consider the ease of installation and maintenance of the jaw coupling. Some couplings may have a split design, making installation and replacement simpler.
Cost and Budget: Compare the cost of the jaw coupling with the system's budget. While it's essential to select a high-quality coupling, it's also crucial to ensure it fits within the budget constraints.
By carefully evaluating these factors, engineers and designers can make an informed decision when choosing a jaw coupling that meets the specific requirements of the system, leading to optimal performance and longevity of the mechanical system.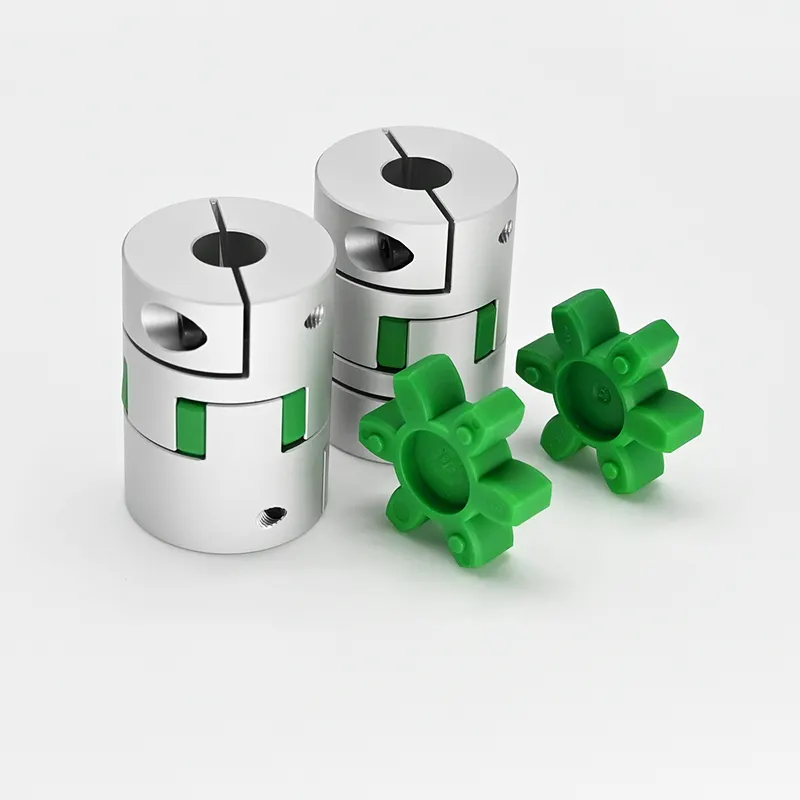 How do jaw couplings handle axial movement in rotating machinery?
Jaw couplings are primarily designed to handle angular and parallel misalignment between rotating shafts. While they are not specifically designed for axial movement compensation, they can accommodate a limited amount of axial movement under certain conditions.
The ability of a jaw coupling to handle axial movement depends on the specific design of the coupling and the type of elastomer spider used. The elastomer spider serves as the flexible element between the two coupling hubs and is responsible for transmitting torque and compensating for misalignment. Some jaw couplings have an elastomer spider with axial flexibility, allowing the coupling to accommodate minor axial movements while maintaining effective torque transmission.
However, it is essential to note that jaw couplings have limitations regarding axial movement. They are not designed for significant axial loads or axial displacements. Excessive axial movement can lead to premature wear and damage to the elastomer spider, reducing the coupling's performance and lifespan.
If an application requires significant axial movement compensation, other types of couplings may be more suitable. For instance, flexible beam couplings or bellows couplings are designed specifically to handle axial movement and are often used in applications where axial misalignment is a critical consideration.
In summary, while jaw couplings can handle a certain amount of axial movement, they are primarily intended for angular and parallel misalignment compensation. For applications with significant axial movement requirements, it is essential to consider coupling types explicitly designed for this purpose.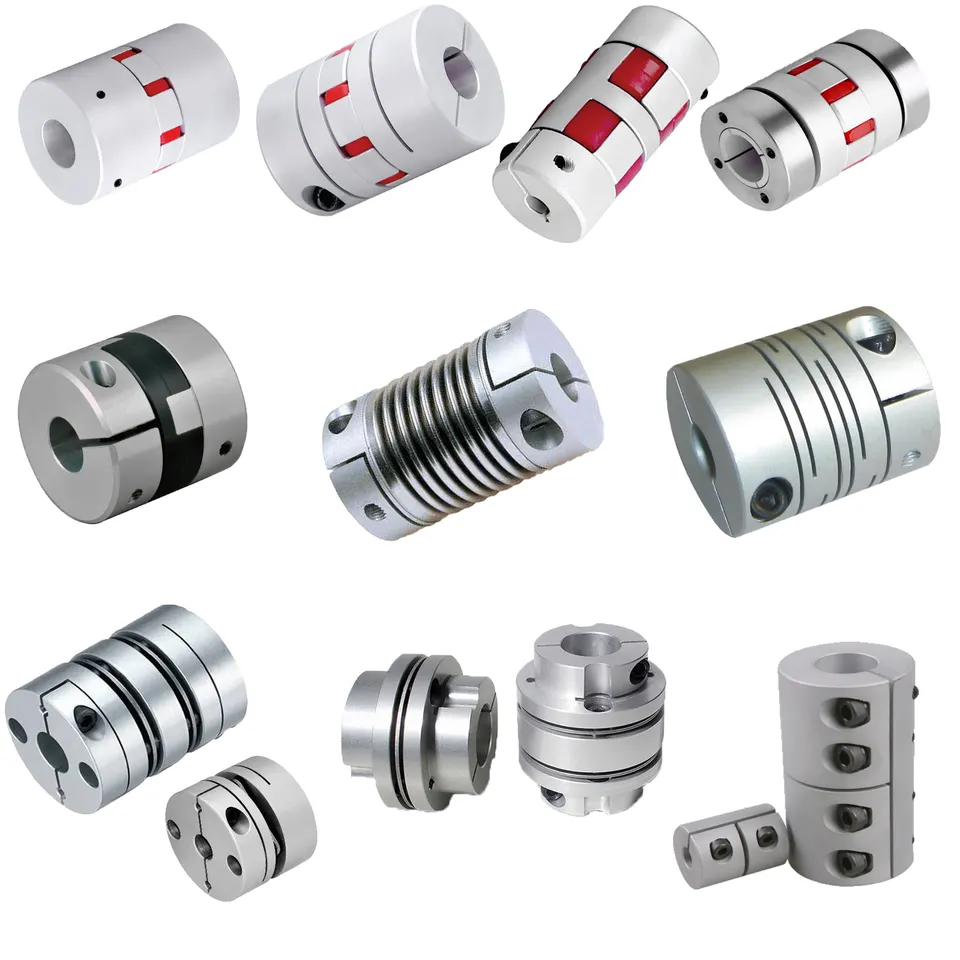 Comparing Jaw Couplings to Other Types of Couplings in Performance
Jaw couplings offer certain advantages and disadvantages compared to other types of couplings, and their performance characteristics vary based on the specific application requirements. Here's a comparison of jaw couplings with some commonly used coupling types:
Jaw Couplings vs. Gear Couplings: Jaw couplings are more economical and easier to install than gear couplings. They can handle misalignment to some extent, but gear couplings are better suited for high torque and high misalignment applications.
Jaw Couplings vs. Disc Couplings: Both jaw couplings and disc couplings provide some level of misalignment compensation, but disc couplings offer higher torque capacity and better torsional stiffness. Jaw couplings are generally more cost-effective for low to moderate torque applications.
Jaw Couplings vs. Oldham Couplings: Jaw couplings are torsionally stiffer than Oldham couplings, which means they provide more accurate torque transmission. However, Oldham couplings can accommodate higher misalignment and have no moving parts, making them suitable for some low-speed applications.
Jaw Couplings vs. Flexible Beam Couplings: Beam couplings are more flexible than jaw couplings and can handle higher misalignment. However, jaw couplings have a higher torque capacity and can dampen vibration better in certain conditions.
Ultimately, the choice of coupling depends on the specific needs of the application, including factors like torque requirements, misalignment, speed, and cost considerations. It's essential to carefully evaluate the performance characteristics of different coupling types and select the one that best suits the demands of the mechanical system to ensure reliable and efficient power transmission.



editor by CX 2023-08-04