Product Description
1111111111111111111111111111111111111111111111111111111111111111111111111111111111111111111111111111111111111111111111111111
| | | | | | | |
| --- | --- | --- | --- | --- | --- | --- |
| Item No. | φD | L | L1 | W | M | Tighten the strength(N.m) |
| SG7-11-30- | 30 | 50 | 18.5 | 13 | M3(4) | 1.2 |
| SG7-11-40- | 40 | 66 | 25 | 16 | M4(6) | 2.7 |
| SG7-11-55- | 55 | 78 | 30 | 18 | M5(4) | 6 |
| SG7-11-65- | 65 | 90 | 35 | 20 | M5(6) | 6 |
| SG7-11-80- | 80 | 114 | 45 | 24 | M6(8) | 10 |
| SG7-11-95- | 95 | 126 | 50 | 26 | M8(4) | 35 |
| SG7-11-105- | 105 | 140 | 56 | 28 | M8(4) | 35 |
111111111111111111111111111111111111111111111111111111111111111111111111111111111111111111111111111111111111111111111111111111111111111111111111111111111111111111111111111111111111111111111111111111111111111111111111
| | | | | | | | | |
| --- | --- | --- | --- | --- | --- | --- | --- | --- |
| Item No. | Rated torque | Maximum Torque | Max Speed | Inertia Moment | N.m rad | Tilting Tolerance | End-play | Weight:(g) |
| SG7-11-30- | 7.4N.m | 14.8N.m | 20000prm | 8.7×10-4kg.m² | 510N.m/rad | 1.0c | +0.6mm | 50 |
| SG7-11-40- | 9.5N.m | 19N.m | 15000prm | 1.12×10-3kg.m² | 550N.m/rad | 1.0c | +0.8mm | 120 |
| SG7-11-55- | 34N.m | 68N.m | 13000prm | 4.5×10-3kg.m² | 1510N.m/rad | 1.0c | +0.8mm | 280 |
| SG7-11-65- | 95N.m | 190N.m | 10500prm | 9.1×10-3kg.m² | 2800N.m/rad | 1.0c | +0.8mm | 450 |
| SG7-11-80- | 135N.m | 270N.m | 8600prm | 1.9×10-2kg.m² | 3600N.m/rad | 1.0c | +1.0mm | 960 |
| SG7-11-95- | 230N.m | 460N.m | 7500prm | 2.2×10-2kg.m² | 4700N.m/rad | 1.0c | +1.0mm | 2310 |
| SG7-11-105- | 380N.m | 760N.m | 6000prm | 3.3×10-2kg.m² | 5800N.m/rad | 1.0c | +1.0mm | 3090 |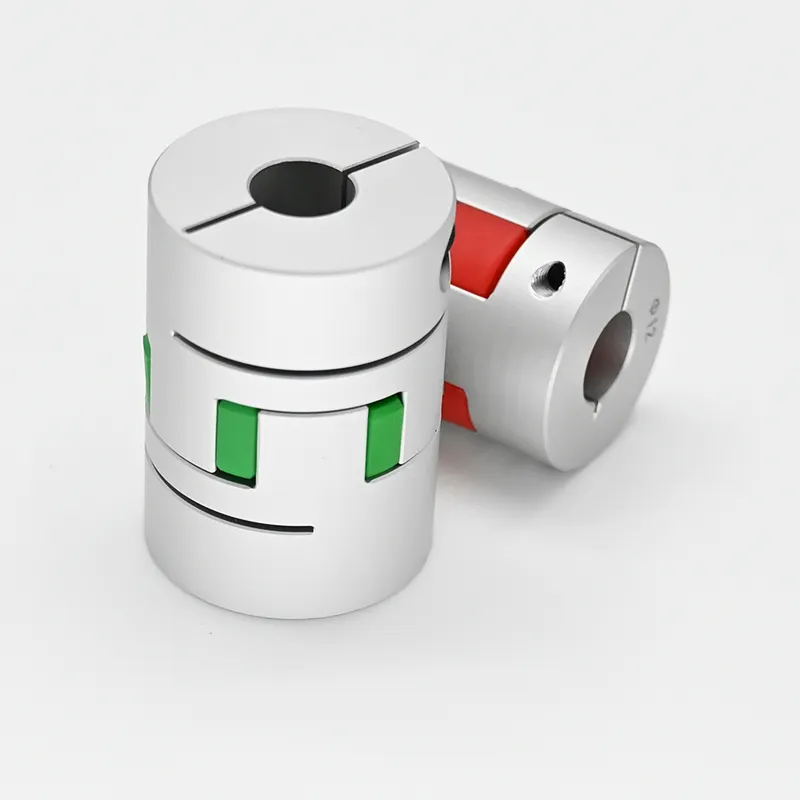 Use of Jaw Couplings in Food Processing and Pharmaceutical Industries
Jaw couplings can be used in food processing and pharmaceutical industries under certain conditions and with the appropriate materials and design considerations. These industries have strict regulations and requirements regarding hygiene, contamination prevention, and cleanability. Here are some key factors to consider:
Material Selection: For applications in food processing and pharmaceutical industries, jaw couplings must be made from materials that meet FDA and/or other regulatory standards for food contact and pharmaceutical use. Stainless steel or FDA-approved plastics are commonly used in such applications.
Cleanability: The design of the jaw coupling should allow for easy cleaning and sanitization. Smooth surfaces and minimal crevices help prevent the accumulation of debris and bacteria. Hygienic designs are crucial to ensure compliance with industry standards.
Sealing: Proper sealing is essential to prevent any lubricants or contaminants from escaping the coupling and coming into contact with the processed materials. Seal materials must be compatible with the substances used in the industry.
Corrosion Resistance: In food processing and pharmaceutical environments, equipment is often subjected to aggressive cleaning agents and chemicals. Jaw couplings must be corrosion-resistant to withstand these harsh conditions and maintain their performance over time.
Compliance with Regulations: Industries such as food processing and pharmaceuticals have specific regulatory standards, such as those set by the FDA (Food and Drug Administration) or other relevant authorities. The jaw couplings used in these applications must meet all necessary regulations to ensure product safety and consumer confidence.
It is important to note that while jaw couplings can be suitable for certain applications in food processing and pharmaceutical industries, it is essential to work closely with coupling manufacturers and suppliers to ensure that the selected couplings meet all industry-specific requirements and standards. Additionally, regular maintenance and inspection should be carried out to ensure the couplings continue to perform as expected and comply with hygiene and safety regulations.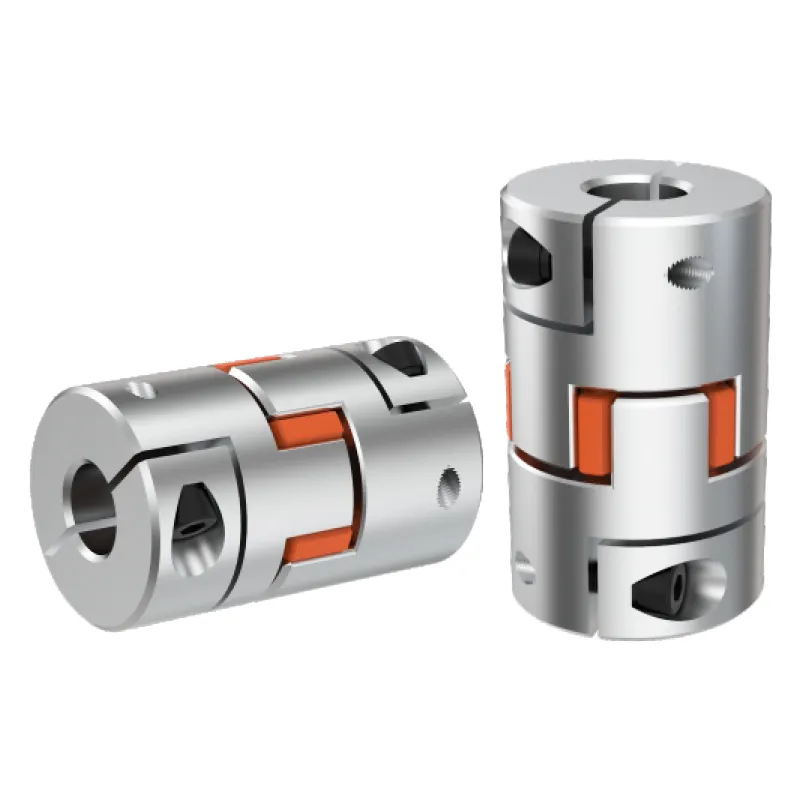 What are the factors influencing the thermal performance of a jaw coupling?
The thermal performance of a jaw coupling is influenced by several factors that affect its ability to dissipate heat and handle temperature fluctuations during operation. Here are the key factors that can impact the thermal performance of a jaw coupling:
Material Selection: The choice of materials used in the construction of the jaw coupling plays a significant role in its thermal performance. High-quality materials with good thermal conductivity can efficiently dissipate heat, reducing the risk of overheating and premature wear. Common materials used in jaw couplings include steel, aluminum, and various elastomers.
Elastomer Spider: The elastomer spider in the jaw coupling is a crucial component that can influence thermal performance. The type of elastomer and its specific characteristics, such as hardness and thermal conductivity, can affect the coupling's ability to absorb and dissipate heat generated during operation.
Operating Speed: The rotational speed of the coupling impacts its thermal performance. Higher operating speeds can generate more heat due to increased friction and stress on the coupling components. It is essential to ensure that the jaw coupling is rated for the specific operating speed of the application to prevent overheating and premature failure.
Torque and Load: The torque and load applied to the jaw coupling can also influence its thermal performance. Higher torque and load levels can result in increased heat generation. Properly sizing the coupling based on the application's torque and load requirements is essential to prevent excessive heat buildup.
Operating Environment: The environment in which the jaw coupling operates can impact its thermal performance. For example, if the coupling is located in an area with limited airflow or high ambient temperatures, it may experience reduced heat dissipation capabilities. On the other hand, an environment with good ventilation can help in maintaining the coupling's thermal performance.
Lubrication: Some jaw couplings may require lubrication to reduce friction and heat generation. Proper lubrication can enhance the coupling's thermal performance and extend its service life. It is essential to follow the manufacturer's guidelines regarding the type and frequency of lubrication to ensure optimal performance.
Continuous vs. Intermittent Operation: The thermal performance of a jaw coupling can also be influenced by the nature of its operation—continuous or intermittent. Intermittent operation allows the coupling to cool down between cycles, reducing the overall heat buildup compared to continuous operation, which may lead to higher operating temperatures.
Overall, careful consideration of these factors is crucial in ensuring the efficient thermal performance of a jaw coupling. Proper selection, installation, and maintenance of the coupling based on the specific application requirements can help prevent overheating, reduce wear, and prolong the coupling's lifespan.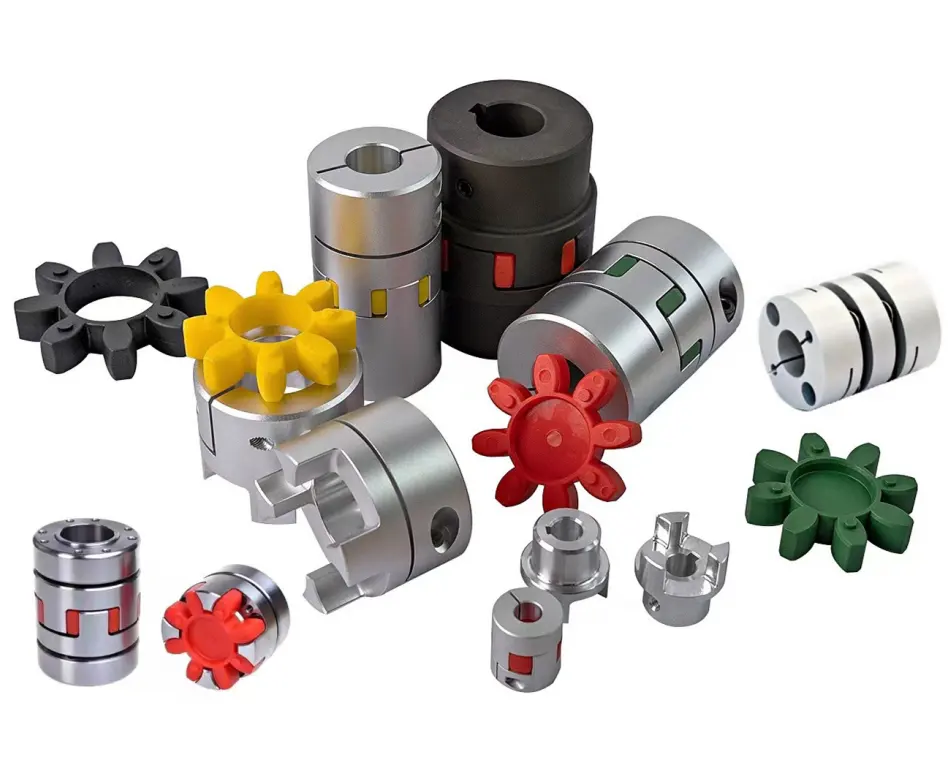 Safety Considerations When Using Jaw Couplings in Rotating Machinery
While jaw couplings are generally safe to use in rotating machinery, there are some important safety considerations to keep in mind to ensure safe and reliable operation:
Proper Installation: Correct installation is crucial for the safe functioning of jaw couplings. The coupling should be mounted precisely in alignment with the shafts to prevent misalignment and minimize stress on the components.
Regular Maintenance: Regular inspection and maintenance are essential to identify signs of wear, misalignment, or damage. Any issues should be addressed promptly to prevent potential failures that may compromise safety.
Load Capacity: Ensure that the selected jaw coupling has an adequate load capacity for the specific application. Overloading the coupling can lead to premature failure and safety risks.
Operating Speed: Be mindful of the operating speed limitations of the jaw coupling. Operating the coupling beyond its maximum rated speed may result in excessive wear and potential hazards.
Environmental Factors: Consider the environmental conditions in which the jaw coupling will operate. Extreme temperatures, humidity, or corrosive substances may impact the coupling's performance and longevity.
Emergency Shutdown: Implement an emergency shutdown procedure to quickly stop the machinery in case of any unexpected issues or safety concerns.
Guarding and Enclosure: Depending on the application, consider using protective guarding or enclosures to prevent accidental contact with rotating components and ensure operator safety.
Compliance with Standards: Follow industry standards and regulations relevant to the specific application to ensure compliance and adherence to safety guidelines.
By adhering to these safety considerations, operators and maintenance personnel can help minimize the risk of accidents, protect personnel from potential hazards, and ensure the reliable and safe operation of rotating machinery with jaw couplings.



editor by CX 2023-08-17